As our name suggests, race reviews are the cornerstone of what we do at RaceRaves. Reviews celebrate your racing adventures, help your fellow runners make smart decisions, and tell appreciative race directors how to make their events even better. Our finisher reviews cover all 50 US states (+ DC) and 80+ countries!
Our Review a Race form starts with key details like date, distance, and your participation status (first-timer, repeat runner, volunteer, etc).
Rate it: Five required ratings ask you to evaluate (on a scale of 1 to 5 shoes) your overall experience as well as course difficulty, course scenery, event production, event swag, and even (optional) your own performance. (Each rating is independent of the others.) Add a finish time result to track your Personal Bests on your Staging Area page.
Review it: Your review headline (get creative!) summarizes your review, while the review itself is your chance to shine — reviews must be a minimum of 140 characters, but feel free to write as much as you please; trust us, your fellow runners will appreciate your attention to detail.
Add Race Report and Media (optional): If you'd like, you can supplement your review with cool photos, a video or even a link to a separate race report (e.g. on your blog). 
Helpful Hints for reviewing a race:
Intimidated by a blank box? Not sure how to start? Ask yourself: What would I want to know about this race? What made it special? Would I recommend it to other runners? It's that easy. Good, bad or indifferent, your opinion matters and EVERY REVIEW COUNTS.
Add travel tips:  Insider tips on how to plan, where to stay, what to see, and where to eat on race weekend are always appreciated!
For hands-free reviewing:  Rather speak than spell? Use the handy microphone on your smartphone or tablet to dictate your review as you would a text.
NOTE: For Past Races on your Staging Area page, you can edit any entry to add a finish time result without having to add a review. 🙌
Not finding a specific race you want to review? See Tips & Tricks: Finding Races for the scoop on how to find races past, present and future. Or feel free to send us the event details via our Submit a Race form and we'll add it to the site, usually within 24 hours.
---
Author: Mike Sohaskey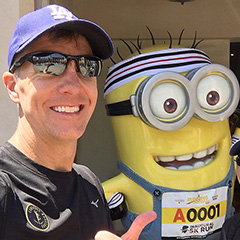 Mike Sohaskey is the co-founder of RaceRaves, the premier online reviews community for runners to share their race experiences and find their next challenge. Mike honed his creative and critical thinking skills as a research scientist, earning a Ph.D. in Cancer Biology from Stanford. He's also completed over 100 races — including 50+ marathons and ultras — in locations ranging from Antarctica to Zimbabwe.
More RaceRaves Tips & Tricks:
Finding Races
Individual Race Pages
My Staging Area Profile
Your (Smart) 50 States Map
It's All About Community
Find this article informative? Please share it, and let others know RaceRaves is the premier online resource to DISCOVER, REVIEW & TRACK all their races and to CONNECT with other runners!