---
HOW IT WORKS: To qualify for and be automatically entered in our random drawing, you must submit your quiz entry, name and email address between Tuesday, May 26, 2020 and 11:59pm PDT on Sunday, May 31, 2020 — quiz score does not affect your odds of winning, and rest assured we'll never share your info. One qualifying entry allowed per person per week, so please don't submit multiple entries using different email addresses.

Beginning May 11, 2020, each Monday for six weeks RaceRaves will randomly select a prize winner and notify them by email. If a winner fails to respond and claim their prize within 14 days of notification, then another winner will be randomly chosen and secure all the glory and spoils therein. Our Week 4 random winner will receive their choice of one of the following: RaceRaves men's or women's Pacific performance tee or women's Gemini tank.
On or around June 15, RaceRaves will randomly select one Grand Prize winner from among the entrants for all six quizzes (total number of possible entries per person = six), and that winner will be awarded a free entry to the 2020/2021 event of their choice from Vacation Races National Parks Half Marathon series (excluding sold-out events). The winner of each weekly drawing is not eligible for another weekly prize, but remains eligible for the Grand Prize drawing.

Author: Mike Sohaskey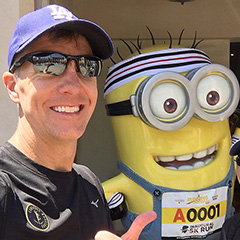 Mike Sohaskey is the co-founder of RaceRaves, the premier online reviews community for runners to share their race experiences and find their next challenge. Mike honed his creative and critical thinking skills as a research scientist, earning a Ph.D. in Cancer Biology from Stanford. He's also completed over 100 races — including 50+ marathons and ultras — in locations ranging from Antarctica to Zimbabwe.

Other RaceRaves quizzes you'll enjoy (trust us!):
Quick 6, week 3: Going to extremes
Quick 6, week 2: Respect your elders
Quick 6, week 1 May races in memorable places
Tag(lines), you're it: Test your race IQ
Taglines, the sequel: Test your race IQ
For more articles, check out our blog!
Find this article informative? Please share it, and let others know RaceRaves is the premier online resource to DISCOVER, REVIEW & TRACK all their races and to CONNECT with other runners!