With road racing on hold due to the COVID-19 pandemic, many runners have turned to virtual racing as a temporary alternative to keep their training on track while maintaining much-needed motivation and accountability. With that in mind, we asked our RaceRaves community of avid runners and endurance athletes to share their thoughts on virtual races and their own virtual racing habits.
Here we present the results of our brief survey (n = 697), including key takeaways and color commentary.
What is a virtual race?

A virtual race is an unofficial race that is run on a course (e.g. your favorite running route near your house) and at a time and pace of your choosing. Many official in-person events now offer a virtual option whereas other events are virtual only. Runners typically self-report their finish times, and virtual events frequently offer familiar swag such as t-shirts and finisher medals.
Survey Results on Virtual Racing
Q: If you are running virtual races these days, what is your top reason for doing so?
| | |
| --- | --- |
| 47%:   | In-person event I'd registered for was canceled/postponed |
| 26%:   | To stay motivated |
| 10%:   | Appealing theme/swag from a virtual-only event |
| 9%:   | To support a charity |
| 8%:   | To support a race organization |
Key Takeaways on Virtual Racing
| | |
| --- | --- |
| 1.  | Three in four respondents plan to run no more than two virtual races within a two-month time period, and one in three don't plan to run any. |
| 2.  | Nearly 75% of respondents who run virtual races do so primarily to stay motivated or because the associated in-person event for which they registered was canceled or postponed. |
| 3.  | Respondents who say virtual events help them to stay motivated generally prefer longer, extended challenges to shorter one-time distances. |
| 4.  | Virtual events rarely replicate the most highly valued features of the race experience including the venue/destination, camaraderie, and competition. |
| 5.  | A demotivating drawback to virtual races it the lag time (typically weeks or even months) between self-reporting of results and receipt of the t-shirt/finisher medal. |
Overall enthusiasm for virtual racing is muted, with respondents overwhelmingly viewing it as a better-than-nothing compromise rather than a satisfying alternative to in-person events.
Color Commentary on Virtual Racing
This pandemic and quarantine has shown me how important my money going to the "race event and experience" really is to me.
Not really interested in paying for a medal and shirt — I have too many already. But if it's virtual or nothing and I've already signed up, then I will run it as a virtual race. I do not plan on signing up for any more unless they are in person.
I'm not interested in virtual races, but would be happy to support the running community in other ways such as purchasing branded face masks for running.
I understand people want some motivation to run, but paying a fee, running a route around home, then getting a medal for it just doesn't work for me.  You're basically buying a medal for a training run. I have no interest in virtual races.
I like taking on new challenges…. In this strange day and age, finding new challenges is terrific!!
It is not even close to the same thing, but does help scratch the itch left over from all of that training without an in-person race to use it at and keeps [me] motivated instead of pouring through the inventory of streaming entertainment content.
I think there are a lot of flaws with virtual racing but, it's all we have now. I am at least happy that we have something to keep us challenged.  I certainly would not pay a lot of money for these events…. The bling helps, but that is only to memorialize the strangeness that we find ourselves in now.
Who would want a virus-themed medal as a memento?
I'm finding it a bit of a turnoff when I can't tell if the company is just trying to make a buck off of people right now by offering a virtual race when they charge for it, and I don't see something going towards a charity or something good.
The challenges were motivating and allowed me to try something a little different…. the YETI challenge [5 miles every 4 hours for 24 hours] was intriguing because it was tough and unique and gave a big sense of accomplishment when done.
It's been a fun way to stay connected virtually with my running club and to enjoy new challenges/distances.
Running a virtual race is like kissing your sister — not very satisfying. 
---
Author: Mike Sohaskey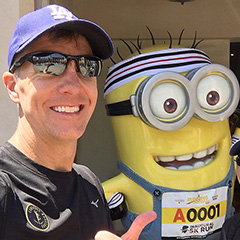 Mike Sohaskey is the co-founder of RaceRaves, the premier online reviews community for runners to share their race experiences and find their next challenge. Mike honed his creative and critical thinking skills as a research scientist, earning a Ph.D. in Cancer Biology from Stanford. He's also completed over 100 races — including 50+ marathons and ultras — in locations ranging from Antarctica to Zimbabwe.

Other RaceRaves articles you'll enjoy (trust us!):
Quick 6: Race Trivia Series
So Your Race Has Been Canceled. Now What?
Runners Choice: Best Half Marathons in the U.S.
Runners Choice: Best Marathons in the U.S.
Best Bets for Boston Marathon Qualifying Races
Introducing your (smart) 50 States Map
Unconventional Races that dare to be different
And for more helpful articles, check out our blog!
Find this article informative? Please share it, and let others know RaceRaves is the premier online resource to DISCOVER, REVIEW & TRACK all their races and to CONNECT with other runners!