With the new year (and new decade) off to a fast start, now's the time to map out your 2020 race schedule or add some flair to your existing schedule. From urban favorites to stunning scenery to hidden gems, there's something for every runner in these top-notch events highly recommended by our RaceRaves tribe.
Looking for more recommendations? Check out our Quick Picks for 2019, 2018 and 2017.
---
Way Too Cool 50K Endurance Run – Cool, CA
(Mar 7; 50K)
Run it because: This is trail running at its finest.
Named for its host town and spirited vibe, Way Too Cool showcases some of the most scenic trails in the country. The varied terrain charms first-timers and veteran ultrarunners alike with its challenging mix of smooth dirt, technical singletrack and numerous shoe-washing stations (i.e. stream crossings), but the icing on the cake (literally) may be the race's signature post-race frog cupcakes. And though registration fills quickly via a December lottery, roughly 100 slots each year are filled from the waitlist, so even latecomers stand a solid chance of experiencing the nation's most popular trail 50K.
Los Angeles Marathon – Los Angeles, CA
(Mar 8; marathon, 5K)
Run it because: It may be the best urban marathon in America.
If it's possible for a race with 20,000 finishers to fly under the radar, then Southern California's marquee marathon does just that. Los Angeles may not enjoy the outsized cachet of its World Marathon Majors brethren in Chicago and New York City, but thanks to such iconic landmarks as Dodger Stadium, Hollywood Blvd, Rodeo Drive and the Santa Monica Pier, the sightseeing potential of its Stadium-to-the-Sea course rivals any urban marathon in the country. Add to that SoCal's temperate climate and laid-back ambience, and you may find yourself singing your own race-day rendition of "I Love LA."
Run the Bluegrass Half – Lexington, KY
(Mar 28; half marathon, 7 miler, 3.6 miler)
Run it because: "America's Prettiest Half Marathon" doesn't horse around.
Celebrating its tenth year in 2020, Run the Bluegrass treats its runners to a 13.1-mile tour through the heart of Kentucky Thoroughbred country. Starting and finishing at Keeneland (a National Historic Landmark), the hilly loop course passes more than a dozen Thoroughbred farms with 2+ miles along Old Frankfort Pike, named "one of the ten best scenic drives in the United States." And if bling is your thing, reviewers highlight the "awesome," "stunning" and "hands-down best EVER" finisher medals as one more reason RTB "should be on everyone's half marathon to-do list."
Eau Claire Marathon – Eau Claire, WI
(May 3; marathon, marathon relay, half marathon, 5K)
Run it because: You won't find a more enthusiastic and supportive community.
The City of Bridges lives up to its billing and then some at this energetic springtime marathon. New for 2020, the reimagined marathon and half marathon courses feature 12 (up from the previous 11) bridge crossings over the Chippewa and Eau Claire Rivers to showcase the route's "gorgeous" scenery. Finishers applaud the "amazing atmosphere fueled by its community support," case in point the final three miles, which will add a spring to your step courtesy of the Blugold Mile powered by exuberant UW–Eau Claire students and the Musical Mile starring local musical performers.
Mad Marathon – Waitsfield, VT
(Jul 12; marathon, marathon relay, half marathon, half marathon relay)
Run it because: You want killer views with hills to match.
"Brutal." "Grueling." "Endless and steep." All are adjectives used by RaceRaves reviewers to describe the most conspicuous feature of Mad's bucolic summer challenge: the hills. Despite its ups and downs, however, the self-proclaimed "World's Most Beautiful Marathon" is rural New England at its best, boasting a "serene" and "Tolkien-esque" backdrop of (very) rolling countryside, quaint rustic villages and picturesque covered bridges, punctuated by majestic views of the Green Mountains. And Race Director Dori Ingalls welcomes home each and every runner with a triumphant finish-line hug.
Bridge of the Gods Half Marathon – Cascade Locks, OR
(Aug 9; half marathon, 10K, 5K)
Run it because: Its heavenly Pacific Northwest setting charms from start to finish.
In a word, the Bridge of the Gods Run is "gorge"ous. Starting in Washington, this "stunningly beautiful" "bucket-list race" immediately crosses its namesake span, treating runners to sweeping views of the Columbia River Gorge far below. Once on the Oregon side, the course joins the paved Historic Columbia River Highway State Trail for a rolling, 12-mile out-and-back that ends in the "great little town" of Cascade Locks. This is the Pacific Northwest so expect lush greenery plus the occasional waterfall, which may or may not be flowing in August.
Marathon du Médoc – Pauillac, France
(Sep 12; marathon)
Run it because: It's the wine country race that started it all.
Marathon running meets molecular gastronomy at this 26.2-mile party organized around the Bordeaux region's world-class wine country. Starting in Pauillac, the rolling figure-eight course leads costume-clad runners past 59 châteaux as well as 22 refreshment stations and 21 food stands serving wine, oysters, steak, cheese and ice cream, among other fare. Médoc hopefuls take note: registration opens in March and sells out within 24 hours. If you don't believe a marathon can be fun, or if you've ever wanted to be asked "Red or white?" at an aid station, Médoc is calling your name.
Snow Canyon Half Marathon – St. George, UT
(Nov 7; half marathon, 5K)
Run it because: Downhill speed + desert scenery = a soul-satisfying race experience.
"This is amazing," raves reviewer @alaskey of this fast fall offering held in Snow Canyon State Park northwest of St. George. Starting at an elevation of 4,600 feet, the point-to-point course leads runners on a "blazing fast" downhill past petrified sand dunes, ancient lava flows and burnt orange Navajo sandstone lit by the morning sun, dropping 1,800 feet before finishing on the track at Snow Canyon High School. And while the "stunning" scenery may be easy on the eyes, the $60 registration fee is likewise easy on the wallet and one of the best values in racing.
Magnolia Marathon – Meridian, MS
(Nov 21; marathon, marathon relay, half marathon)
Run it because: You'll appreciate just how good a small-town marathon can be.
For a runner-focused race experience with a personal touch, look to Meridian. Having herself completed 75+ marathons including one in every US state, Race Director Evelyn Watkins and her team understand what makes a race special, a fact reflected in Magnolia's scenic (albeit hilly) double loop course, enthusiastic volunteers and generous 8-hour time limit. In addition, all finisher and age-group awards are handcrafted locally from magnolia (the state tree) wood. As 2019 finisher @RUNableChris puts it, "In a sea of franchise race series, the Magnolia Marathon & Half is truly a hidden gem."
A Christmas Story Run – Cleveland, OH
(Dec 5; 10K, 5K)
Run it because: There's no better way to kick off the holiday season.
If you're a fan of Red Ryder and pink bunny suits, we triple dog dare you to resist this festive homage to Hollywood's 1983 holiday classic. Though set in Northern Indiana, A Christmas Story was in fact filmed in Cleveland, and it turns out the distance from the former Higbee's department store (the start line) to Ralphie's house (the 5K finish line/10K turnaround point) happens to be three miles, or 5K. All finishers earn a major award (i.e. medal) inspired by the movie along with rich chocolatey Ovaltine, while all participants gain free admission to A Christmas Story House & Museum.
Our quick picks are only the beginning of your epic racing year! Search for races by state, city or month, and try our handy Find a Race tool to search for events by name, date range, distance, location, terrain & more. Then sign up for a free account to build your wish list and start coloring in your 50 States Map!
---
Author: Mike Sohaskey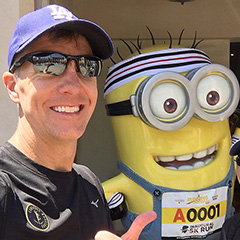 Mike Sohaskey is the co-founder of RaceRaves, the premier online reviews community for runners to share their race experiences and find their next challenge. Mike honed his creative and critical thinking skills as a research scientist, earning a Ph.D. in Cancer Biology from Stanford. He's also completed over 100 races — including 50+ marathons and ultras — in locations ranging from Antarctica to Zimbabwe.

Other RaceRaves articles you'll enjoy (trust us!):
Runners Choice: Best Marathons in the U.S.
Runners Choice: Best Half Marathons in the U.S.
Tested & Trusted Race Day Tips
Best Bets for Boston Marathon Qualifying Races
Getting to know the Abbott World Marathon Majors
Running on all Seven Continents
And for more helpful articles, check out our blog!
Find this article informative or entertaining? Please share it, and let others know RaceRaves is the premier online resource to DISCOVER, REVIEW & TRACK all their races and to CONNECT with other runners!