If there's one word that best sums up the year in racing, it's "WOW." One weekend in October may have seized the spotlight, but remarkable performances were seemingly everywhere you looked, as was one conspicuous and controversial shoe. And while we can't predict what next year may bring (after all, we don't have 2020 vision! 😂), we can take an awestruck look back at some of the top moments from a historic 2019 that defied description and exceeded all expectation.
All heart: In April, Boston Marathon Race Director Dave McGillivray overcame the odds to earn his 47th consecutive Boston finish just six months after undergoing triple bypass surgery. Appropriately, McGillivray ran this year's marathon in support of Team Big Heart, raising more than $100,000 and crossing the finish line hand-in-hand with five-year-old Jack Middlemass, who was born with cardiomyopathy and who received a heart transplant at the age of four.
Sign of things to come: Eliud Kipchoge of Kenya, arguably the greatest marathoner of all time, further upgraded his legendary résumé by capturing his fourth London title — and tenth consecutive marathon victory overall — in a course record 2:02:37. Meanwhile, fellow Kenyan Brigid Kosgei won the women's race in 2:18:20. As impressive as both performances were, they would prove to be merely a warmup to what each runner would accomplish later in the year.
Flying Pig hogs the spotlight: Cincinnati's hometown marathon became the first repeat winner (2017, 2019) in the third annual RaceRaves March Lunacy tournament, produced in parallel with the NCAA "March Madness" tournament. The Pig outlasted 63 worthy contenders — including Cinderella surprise Hatfield McCoy Marathon in the final round — to once again bring home the bacon as "America's Rave Race" and leave the competition pink with envy.
May the Fourth be with you: On the most beloved day of the year for Star Wars fans, Jim Walmsley delivered an(other) out-of-this-world performance at the HOKA ONE ONE Project Carbon X event, as he broke the 50-mile road world record in a time of 4:50:08 (5:48/mile). Not to be outdone by himself, Walmsley would go on to eclipse his own course record and defend his title at the prestigious Western States 100-Mile Endurance Run just eight weeks later.
A stranger is just a friend you haven't finished a marathon with yet: In May, Laura Mazur of New Bremen, OH and Jessica Robertson of Braddock, PA ran the final mile and crossed the finish line holding hands at the Pittsburgh Marathon. The two women, who had never met before mile 14, bonded over their shared determination to reach the finish, and in the process unwittingly gave us one of the year's most inspiring and uplifting viral moments.
Now that's what we call a running mate: United States Senator Kyrsten Sinema qualified for the 2020 Boston Marathon, beating her qualifying standard by more than 11 minutes at California's Mountains 2 Beach Marathon. Together with a win two weeks earlier in the Senate division at the ACLI Capital Challenge, her performance solidified the senior senator from Arizona's standing as the fastest woman ever to serve in Congress.
Brave Like Gabe: The running world lost one of its brightest stars in June, as Gabe Grunewald died from adenoid cystic carcinoma at age 32. Throughout her decade-long battle with the disease, Grunewald continued to compete at an elite level, setting a then-PR in the 1500m the day after her diagnosis in 2009. Her indomitable spirit epitomized courage and inspired athletes across the country to always keep fighting, to never give up, and to always be #BraveLikeGabe.
A fitting tribute: In an event in Monaco billed as the "Brave Like Gabe" mile and dedicated to the late Gabe Grunewald, Sifan Hassan of the Netherlands broke the women's mile world record in a time of 4 minutes 12.33 seconds, narrowly edging out the 23-year-old world record of 4:12.56 set in 1996 by Russia's Svetlana Masterkova.
No better than Bitter: Zach Bitter extended his long-distance dominance at August's Six Days in the Dome, clocking a world record by completing 100 miles around the 443-meter indoor track in a mind-blowing time of 11 hours, 19 minutes, 13 seconds. As if that weren't achievement enough, Bitter's pace slowed only slightly as he kept running for another 40+ minutes to set a second world record with 104.8 miles in 12 hours. Waiter, we'll have what he's having!
Kenya believe it? Kenyan sensation Geoffrey Kamworor got the fall racing season off to a fast start in Copenhagen, scorching the half marathon world record in a time of 58:01. Kamworor's feat came less than a year after fellow countryman Abraham Kiptum (who has since been suspended for doping violations) claimed the world record in Valencia, Spain. Kamworor would follow up his brilliant performance with a year-end win at the New York City Marathon.
Speaking of suspensions: In September, the US Anti-Doping Agency announced a four-year suspension for controversial coach Alberto Salazar for doping violations; Nike then opted to shutter its Oregon Project in Salazar's absence. Days later Galen Rupp and Jordan Hasay, both Salazar athletes, dropped out of the Chicago Marathon with injuries, while former Salazar athlete and defending champ Mo Farah finished a disappointing eighth.
You can't make this up: Running with "Jesus Saves" printed on his race bib in the Medtronic Twin Cities 10 Mile, Tyler Wood of Eden Prairie, MN suffered a heart attack at mile 8 after experiencing an abnormally fast heartbeat. Luckily a fellow runner saw him collapse and acted quickly, administering CPR to save Wood's life. The savior? A 43-year-old certified registered nurse anesthetist named Jesus "Jesse" Bueno.
"No human is limited": With an empowering mantra and a rotating team of 41 pacers, Eliud Kipchoge captured the sport's holy grail and accomplished what many experts once thought impossible, completing 26.2 miles in less than two hours — one hour, 59 minutes, 40 seconds to be precise, a mind-boggling average pace of 4:34/mile. No matter that his stunning performance at the INEOS 1:59 Challenge in Vienna didn't qualify for an official world record; Kipchoge already holds that mark as well with his 2:01:39 at last year's Berlin Marathon.
Where no (wo)man has gone before: One day after her fellow countryman posted the first-ever sub-two-hour marathon, Brigid Kosgei capped an historic weekend for both Kenya and the sport of running. Following up her convincing win in London six months earlier, Kosgei successfully defended her Chicago Marathon title in a time of 2:14:04 and shattered Paula Radcliffe's 16-year-old world record by an emphatic 81 seconds.
A shoe-in for most controversial: One other conspicuous commonality between Kipchoge and Kosgei was their record-setting footwear. In fact, the five fastest record-eligible marathons in history — plus Kipchoge's 1:59:40 and Kamworor's 58:01 half WR — were all run in the Nike Vaporfly. The shoe's carbon fiber plate and unrivaled (pardon the pun) track record of success have fueled a spirited debate over whether such footwear should be banned from competition.
We'll miss that badass ponytail: In October one of the sport's greatest distance runners and ambassadors, Shalane Flanagan, announced her retirement. Shalane's storied career included four Summer Olympics and the third-fastest marathon time among US women (2:21:14, Berlin 2014). And in 2017 she became the first American woman in 40 years to win the NYC Marathon. Whether she was running with or against you, Shalane made everyone around her better.
Bravo, championne! Camille Herron again outdid herself, this time at the 24-Hour World Championships in Albi, France. Herron surpassed her own world record of 262.192 km by toughing out 270.116 km (167.842 miles) in 24 hours on the 1.5-km loop course. With her self-described "puke and rally" strategy, the 2017 Comrades Marathon champ and owner of five ultrarunning world records led Team USA to top honors.
Again, the Biggest Apple: For the third time in four years the TCS New York City Marathon, the sixth and final event of the calendar year for the Abbott World Marathon Majors, set the standard for the largest marathon ever as 53,636 runners from 141 countries crossed the finish line in Central Park. The mark eclipsed last year's record 52,813 finishers from 129 nations. Yous guys, dat's a lotta ponchos!
Take that, Father Time: At the risk of sounding like a broken record about broken records, a bevy of age-group bests fell in 2019 including:
96-year-old Roy Englert, who already owned world records for the 95–99 age group at the 800 m, 1500 m and 3000 m distances, added to his résumé with a 42-minute 5 km at the USATF Masters Outdoor Championships, breaking the old record by nearly eight minutes.
71-year-old Jeannie Rice outdid herself at two distances, breaking her own world records for the 70–74 age group in both the marathon (with a 3:24:48 in Berlin) and half marathon (with a 1:37:07 in Akron). Rice hopes to improve on both records in early 2020.
Not Joan Benoit Samuelson, but rather 61-year-old Mariko Yugeta of Japan became the first woman over the age of 60 to run a sub-three marathon, clocking a 2:59:15 at the Shimonoseki Kaikyo Marathon before improving on that mark five weeks later with a 2:56:54 in Saitama.
(Apologies to any deserving age-group athletes we may have missed!)
Here's to a happy, healthy 2020 filled with gratifying miles and personal bests in everything you do!
---
Author: Mike Sohaskey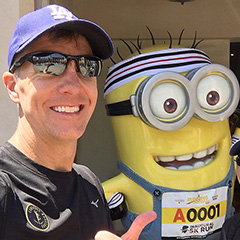 Mike Sohaskey is the co-founder of RaceRaves, the premier online reviews community for runners to share their race experiences and find their next challenge. Mike honed his creative and critical thinking skills as a research scientist, earning a Ph.D. in Cancer Biology from Stanford. He's also completed over 100 races — including 50+ marathons and ultras — in locations ranging from Antarctica to Zimbabwe.

Other RaceRaves articles you'll enjoy (trust us!):
Runners Choice: Best Marathons in the U.S.
Runners Choice: Best Half Marathons in the U.S.
Tested & Trusted Race Day Tips
Best Bets for Boston Marathon Qualifying Races
Getting to know the Abbott World Marathon Majors
Running on all Seven Continents
And for more helpful articles, check out our blog!
Find this article informative or entertaining? Please share it, and let others know RaceRaves is the premier online resource to DISCOVER, REVIEW & TRACK all their races and to CONNECT with other runners!