At times like these, silence isn't golden. Remaining silent means being complicit in the deep-rooted, systemic racism that oppresses and disempowers communities of color in this country. Just as COVID-19 disproportionately kills black Americans, racism is a public health crisis that costs the nation more than 83,000 black lives each year. Lives that ended too soon. Lives that mattered.
The RaceRaves community has zero tolerance for racism and hate. Our personal and professional values compel us to:
Stand in alliance with communities of color—by listening, by learning, by advocating, by speaking up, and by donating our time and money.
Confront, educate and eradicate racism and hate wherever they exist, in a conscientious and tireless manner.
Work to elect representatives and pass laws that will not discriminate based on skin color and which will fight to overturn the entrenched system of economic, social and racial injustice that presses its knee against the necks of black Americans every day.
As runners, we believe no other sport has such enormous power to help us transcend our differences and embrace our common humanity. And every individual in this country—regardless of race, ethnicity, gender expression, sexual orientation, age, religion, size or ability—should be able to enjoy the same freedom and peace of mind that many of us take for granted every time we lace up our shoes and go for a run.
We stand in solidarity with all members of the BIPOC community, who cannot and should not fight for progress alone. It is only through our individual actions and our collective voice that the long arc of the moral universe, as Dr. King noted, will continue to bend toward justice for every American.
#Eracism
---
Author: Mike Sohaskey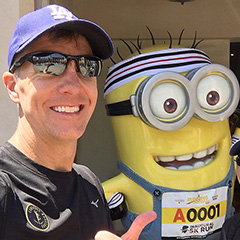 Mike Sohaskey is the co-founder of RaceRaves, the premier online reviews community for runners to share their race experiences and find their next challenge. Mike honed his creative and critical thinking skills as a research scientist, earning a Ph.D. in Cancer Biology from Stanford. He's also completed over 100 races — including 50+ marathons and ultras — in locations ranging from Antarctica to Zimbabwe.