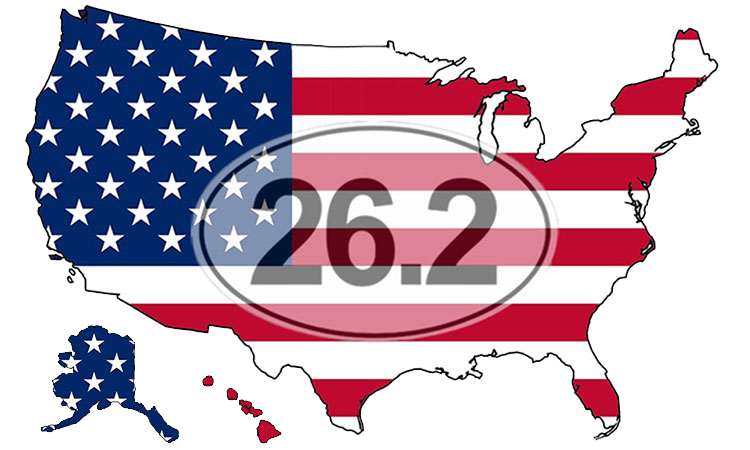 Welcome to the results of our 2018 Best Marathons in the U.S. poll! Here we list the top marathon in every U.S. state organized by month, with runners-up in italics.
You can also view this list organized by state to read a brief profile on each of our winners.
THANK YOU to all who voted or posted your reviews — your overwhelming support enabled us to compile this list with confidence. We hope you'll add some of these to your own wish list! 👏
Disclaimer: Due to their exclusive status as World Marathon Majors (with all the prestige and advantages conferred by that status) the Boston Marathon, Chicago Marathon and New York City Marathon were excluded from the voting in their respective states (Massachusetts, Illinois and New York). It's no secret these three races are bucket-list favorites, and our goal is to help runners discover less ballyhooed events deserving of their time and money.

---
Best Marathons in the U.S. by month
Chevron Houston Marathon – Houston, TX
Louisiana Marathon – Baton Rouge, LA
Maui Oceanfront Marathon – Lahaina, HI
Rock 'n' Roll Arizona – Phoenix, AZ
Walt Disney World Half Marathon – Lake Buena Vista, FL
The Cowtown – Fort Worth, TX
Lost Dutchman Marathon – Apache Junction, AZ
Mercedes-Benz Marathon – Birmingham, AL
Mississippi Blues Marathon – Jackson, MS
Rock 'n' Roll Las Vegas – Las Vegas, NV (marathon discontinued)
Rock 'n' Roll New Orleans – New Orleans, LA
Atlanta Marathon – Atlanta, GA
B&A Trail Marathon – Severna Park, MD
Bataan Memorial Death March – White Sands, NM
Little Rock Marathon – Little Rock, AR
Myrtle Beach Marathon – Myrtle Beach, SC
Napa Valley Marathon – Calistoga, CA
Savin Rock Marathon – West Haven, CT
Tobacco Road Marathon – Cary, NC (tie, NC runner-up)

Big Sur International Marathon – Big Sur, CA
Carmel Marathon Weekend – Carmel, IN
Christie Clinic Illinois Marathon – Champaign, IL (tie, IL runner-up)
Delaware Marathon Running Festival – Wilmington, DE
Garmin Marathon in the Land of Oz – Olathe, KS
GO! St. Louis Marathon – St. Louis, MO
Kentucky Derby Festival Marathon – Louisville, KY
New Jersey Marathon – Oceanport, NJ
Oklahoma City Memorial Marathon – Oklahoma City, OK
St. Jude Rock 'n' Roll Nashville – Nashville, TN

Cincinnati Flying Pig Marathon – Cincinnati, OH
Coeur d'Alene Marathon – Coeur d'Alene, ID
Eau Claire Marathon – Eau Claire, WI
Eugene Marathon – Eugene, OR
Fargo Marathon – Fargo, ND
Lincoln Marathon – Lincoln, NE
Pittsburgh Marathon – Pittsburgh, PA
Providence Marathon – Providence, RI
Vermont City Marathon – Burlington, VT

Anchorage Mayor's Marathon – Anchorage, AK
Casper Marathon – Casper, WY
Deadwood Mickelson Trail Marathon – Deadwood, SD
Grandma's Marathon – Duluth, MN
Hatfield McCoy Marathon – Williamson, WV (WV winner, KY runner-up)
Missoula Marathon – Missoula, MT
REVEL Rockies – Evergreen, CO
Rock 'n' Roll Seattle – Seattle, WA (discontinued)
Run4Troops Marathon – Dyersville, IA
Maah Daah Hey Trail Marathon – Grassy Butte, ND
Mad Marathon – Waitsfield, VT
Madison Marathon – Madison, MT (tie, MT runner-up)
Mesa Falls Marathon – Idaho Falls, ID

Anchorage RunFest (Humpy's Marathon) – Anchorage, AK
ET Full Moon Midnight Marathon – Rachel, NV
Air Force Marathon – Wright-Patterson AFB, OH
Belleville Main Street Marathon – Belleville, IL (tie, IL runner-up)
Bozeman Marathon – Gallatin Gateway, MT (tie, MT runner-up)
Clarence DeMar Marathon – Keene, NH
Jackson Hole Marathon – Jackson, WY
Omaha Marathon – Omaha, NE
Pikes Peak Marathon – Manitou Springs, CO
Quad Cities Marathon – Moline, IL
REVEL Big Cottonwood – Salt Lake City, UT
Amica Newport Marathon – Newport, RI
Atlantic City Marathon – Atlantic City, NJ
Baltimore Running Festival – Baltimore, MD
Baystate Marathon – Lowell, MA
Cape Cod Marathon – Falmouth, MA
Columbia Gorge Marathon – Hood River, OR
Des Moines Marathon – Des Moines, IA
Detroit Free Press/TCF Bank Marathon – Detroit, MI
Duke City Marathon – Albuquerque, NM
Freedom's Run – Harpers Ferry, WV
Grand Rapids Marathon – Grand Rapids, MI
Hartford Marathon – Hartford, CT
Kansas City Marathon – Kansas City, MO
Maine Marathon – Portland, ME
Marine Corps Marathon – Arlington, VA
Medtronic Twin Cities Marathon – Minneapolis, MN
New Hampshire Marathon – Bristol, NH
Mount Desert Island Marathon – Bar Harbor, ME
Niagara Falls International Marathon – Buffalo, NY
Prairie Fire Marathon – Wichita, KS
Run Crazy Horse – Crazy Horse, SD
St. George Marathon – St. George, UT
Wineglass Marathon – Bath, NY
Charlotte Marathon – Charlotte, NC (tie, NC runner-up)
Indianapolis Monumental Marathon – Indianapolis, IN
Madison Marathon – Madison, WI
Outer Banks Marathon – Kitty Hawk, NC (marathon not offered in 2021)
Philadelphia Marathon – Philadelphia, PA
Rock 'n' Roll Savannah – Savannah, GA
Route 66 Marathon – Tulsa, OK
Seattle Marathon – Seattle, WA
Space Coast Marathon – Cocoa, FL
VCU Health Richmond Marathon – Richmond, VA
Honolulu Marathon – Honolulu, HI
Jacob Wells 3 Bridges Marathon – Little Rock, AR
Kiawah Island Marathon – Kiawah Island, SC
Mississippi Gulf Coast Marathon – Pass Christian, MS
Rehoboth Beach Seashore Marathon – Rehoboth Beach, DE
Rocket City Marathon – Huntsville, AL
St. Jude Memphis Marathon – Memphis, TN